Non-Patent Case Profile
Case profile pages collect all data relevant to a particular case and arrange it in one place to streamline navigation. Users can save, create alerts for, and share profile binders.
Use Case Profiles to find a dashboard of information and a list of tabs with information pertaining to the party. Explore a party's litigation history, and answer questions like:
What Trademarks were the subject of the case? Which parties and law firms were involved?
Have there been any significant decisions or rulings made in the case?
What are the pleadings that have been filed in this case?
What orders have been issued in the case?
Included Tabs
Copyrighted Works/Trademarks

AccusationsIn a Patent Case, an Accusation is a request for relief, the resolution of which could determine if a patent has been in...
View the case header, including the Plaintiffs, Defendants, and their respective counsel.
View a list of all parties in the case.
View a list of docket entries in cases — that is the individual entries (usually sequentially numbered and dated) in the official record of proceedings and filings of a civil action or administrative proceeding.
View a list of pleadings filed and orders issued by the court in relation to the case.
Compile a list of all Copyrighted Works involved in the case.
View a list of all Trademarks involved in the case.
View a list of accusations in a case, along with the assertor, the Accused Party, and the Claim Nature.
Location
Search Page > Profile Search > Case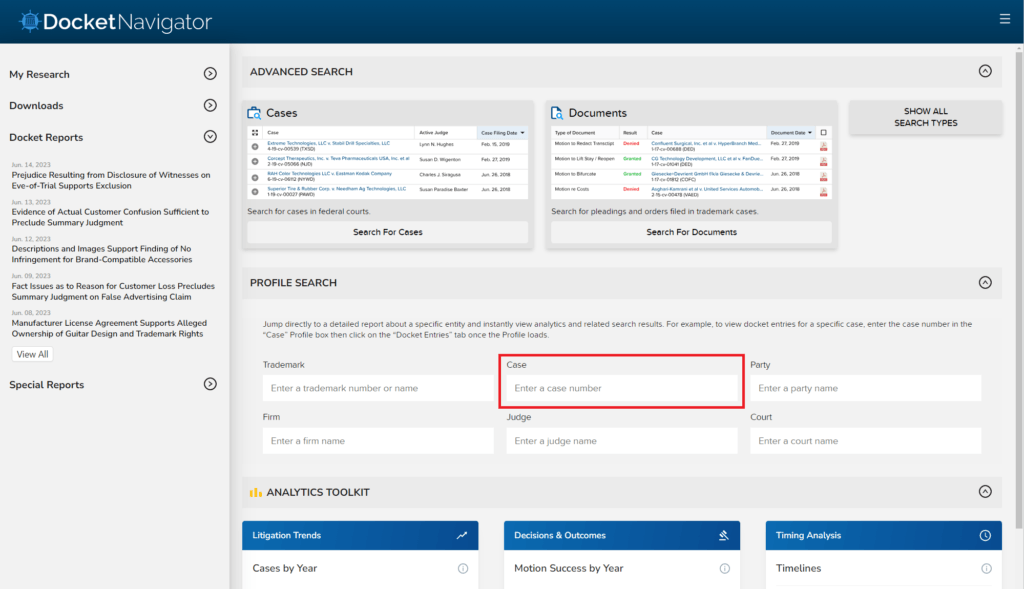 Last Updated: November 30, 2023