General Statistics
View a collection of general statistics in easy-to-access tabs. View all data for a category organized by year or use the available filters to limit the scope of data in the graphs. Browse through visual representations of the following statistics, graphed by year:
Included Charts
New Cases

Case Parties

Patent DeterminationsA Patent Determination occurs when a court or administrative agency issues a decision that determines the infringement, ...

Non-Stipulated Determinations

MSJ Against PatenteeA Patentee (sometimes referred to as a patent owner) is a litigant in a Patent Case who claims to hold rights to a U.S. ...

Motion in Limine/Strike Evidence
Sufficiency of the Pleadings

Jurisdiction, Venue, Standing

Motion to Disqualify Counsel

Motion to Compel Discovery

Motion to Amend Contentions

Motion for Relief from Judgment

Motion for Enhanced Damages
Available Filters
Filter results by the entire selection of Docket Navigator filters.
Location
Search Page > Analytics Toolkit > Litigation Trends > General Statistics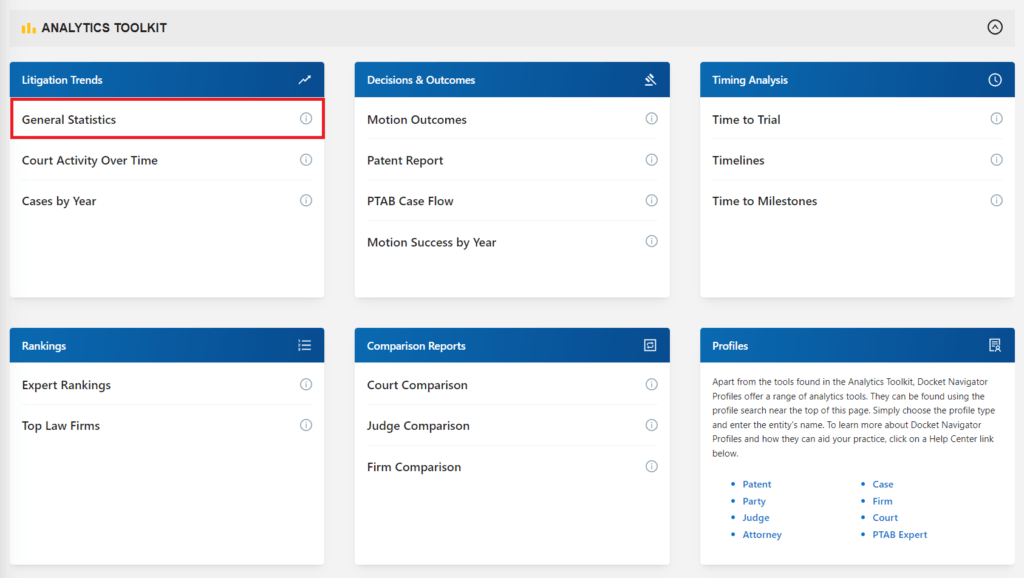 Last Updated: November 15, 2023