Patent Report
Easily access information on litigation activity, determinations, outcomes, remedies, and claim constructions for any set of patents you input.
Type or upload a list of patent numbers in the Patent Report page to see a detailed compilation of the litigation history for the patents. View a patent's associated cases, determinations, accusations, remedies, and terms, or generate a chart of all cases involving that patent by year. Investors, in-house counsel, and businesses can use the report to answer questions like:
What terms in this patent have been construed, and how are they defined? Use this information in drafting a patent application, or arguing for a particular term definition in your case.
What are the litigation trends for this patent or selection of patents? Use this information to set the client's expectations for how long the case will last, or to decide which venue to file a case in.
How strong is my client's patent portfolio?
Included Results
AccusationsIn a Patent Case, an Accusation is a request for relief, the resolution of which could determine if a patent has been in...

RemediesA Remedy occurs when a court awards monetary or injunctive relief, or when the ITC enters a remedial order. Docket Navig...
Cases by Year
View case filing activity by year for a selected set of patents.
Search Results Tabs
Tabs on the sidebar without the three gold analytics bars provide search results for the selected set of patents. Use these to view lists of a patent set's litigation information, filter by additional information, or sort by a specific characteristic (ex. filing date, appeal status, remedy type).
Available Tabs:
Cases
Determinations
Accusations

In a Patent Case, an Accusation is a request for relief, the resolution of which could determine if a patent has been in...

Remedies

A Remedy occurs when a court awards monetary or injunctive relief, or when the ITC enters a remedial order. Docket Navig...

Terms
Location
Search Page > Analytics Toolkit > Decisions & Outcomes > Patent Report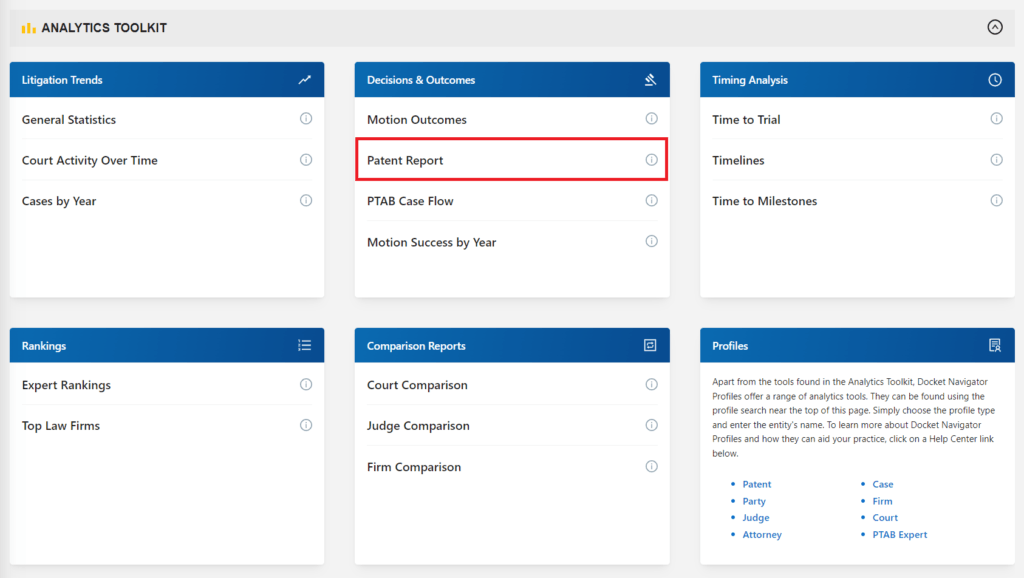 Last Updated: November 15, 2023